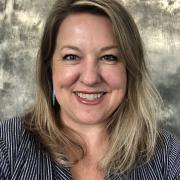 Barbara Allen
Managing Editor, Poynter.org
Group: Instructor, staff
Barbara Allen is the managing editor of Poynter.org. She spent two decades in local media in her hometown of Tulsa, Oklahoma, and in education at her alma mater, Oklahoma State University.
Barbara spent 12 years as a writer and editor at the Tulsa World where she covered cops, courts and features, then became a features editor and helped direct an award-winning section aimed at local teenagers.
She took that interest in students to her alma mater, Oklahoma State University, and worked as the adviser to the school paper, The O'Colly, and an adjunct professor teaching courses in multi-media reporting and public affairs writing. In her nearly 10 years at OSU, Barbara helped the school reimagine its college media department from one that produced a single daily newspaper to eight separate digital properties. It is now a modern media company and Barbara advised students not only on news coverage and the practice of journalism, but also directed operations related to social media, advertising sales and marketing.
While realizing these ambitions for OSU, the paper, advised by Barbara, now counts four consecutive Top 10 finishes in the Hearst collegiate journalism competition.
Barbara is married to Billy Berkenbile, a professional drummer and music teacher.
Her daughter, Vivian Allen, is enrolled at the University of Oklahoma. She has two stepsons, Cal and Sam, who live in Portland and Dallas, respectively.